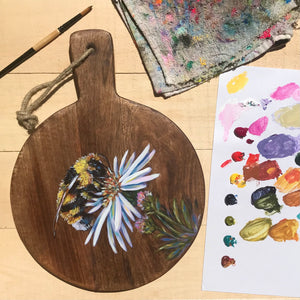 This decorative wooden cutting board is the perfect addition to your home. It also makes a beautiful gift! It features a one-of-kind acrylic painting in a vibrant color palette and it's finished with a light protective varnish. This cutting board (not food safe) is perfect to display on a shelf, counter top, or table. It measures approximately 8.25 inches wide x 9 inches tall.
You will get to own one of my original paintings- this is not a print. This painting is ready to display and enjoy.
Please note that all hand painted boards might have slight variations to the finished product due to knots, cracks, and imperfections that may be present in the wood.
Shipping: Item ships within 7 business days of purchase. 
Copyright remains with the artist.
© Michelle Ware